Ramona Wright: A Lifetime in The Arts
Artist Chronology
EXHIBITIONS
2012
Intel Chandler, "Black History Month", Chandler Arizona
Intel Ocotillo, "Black History Month", Mesa Arizona
Three Legacies & Artist of the Black Community/AZ
George Washington Carver Museum & Cultural Center, Phoenix Arizona
2011
10th Annual "Sisters in Creation Luncheon"
Benefiting Tempe Alumnae Chapter, Academic Scholarships, Tempe, AZ
Pointe Hilton Squaw Peak Resort "APS", Phoenix, AZ
"One Woman Show" "Finding What Was Lost", Phoenix, AZ
2008
West Valley Art Museum, Surprise, Arizona Art Show
Shemer Art Museum, Scottsdale, AZ
MLK Event, South Mountain Community College, Phoenix, AZ
PUBLICATIONS/ILLUSTRATIONS
"Get Lost Simon", Simon Webber, Phoenix, AZ, 2012
"The Tater Terminator", Montezuma Brown, Chandler, AZ, 2012
"Myth of the Strong Black Woman", Ramona Wright, Phoenix, AZ, 2011
"In the Eyes of Love", Joseph Wright, Phoenix, AZ, 2011
"The Adventures of Roleafeo and Jazzie", San Diego, CA, 2010
"The Princess in Arizona" Montezuma Brown, Chandler, CA, 2012
"Grandma Mona's Grandbaby Book of Songs and Poetry", Phoenix, AZ, 2012
"Riding the Billy Goat" Joseph Wright, Phoenix, AZ 2012
"The Little Girl Who Did Not Have Time To Take A Bath" Ramona Wright, Phoenix, AZ, 2008
COLLECTIONS
George Washington Carver Museum and Cultural Center, Phoenix, AZ
EDUCATION
Private instruction
Scottsdale Community College, Art and Music Major
TEACHING
2009 – Present
Private Instruction, Beginning Piano/Keyboard, Accordion, Violin, Cello, Phoenix, Arizona
Private Instruction at Fine Art Done Wright Studio, Phoenix, AZ
2012 – Present
Creative Thera Painting – On Location
Retired: 2009
New World Educational Center, K-12 Art/Music Teacher, Phoenix, AZ
Biography

From private homes to museums, award winning fine artist, Ramona Wright, has portrayed the likenesses of clients of all cultures and ages. Ramona belongs to The Arizona Watercolor Society, The Consortium of Black Organizations and Others for the Arts (COBA), Artists of the Black Community of Phoenix (ABC's), and The Carver Museum and Cultural Center, in Phoenix, Arizona.
Ramona studied under one of Arizona's finest Award Winning Watercolorists, Carol Hillsbery of Mesa, Arizona. Carol's critiques, demonstrations and encouragement supported Ramona's innate freedom to express her art without reservation. Ramona' goal has always been to paint with power, passion, purpose and integrity.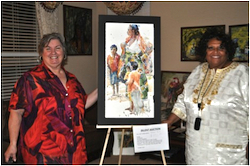 Carol helped her to appreciate that she had attained her goal and she supported her first "One Woman Show" in 2011.
EARLY YEARS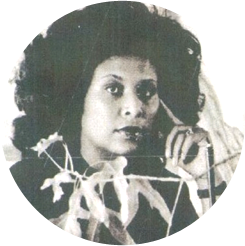 Born in Los Angeles, California in 1948, Ramona began painting and drawing at the age of five. Through the encouragement and example of her mother, a teacher, concert pianist and artist, Ramona knew at an early age that she wanted to pursue an art and music career. Her mother took her to many art and music lessons, museums, libraries and concerts. Her mother was diligent in nurturing her musical and artistic gifts and talents. As a child in elementary school, Ramona drew portraits of fellow students in her classes to raise money for her art supplies. She entered art competitions at State Fairs; and in the 7th grade, she won first prize at the Los Angeles State Fair for her oil painting of a Kachina Doll. From elementary through high school, her paintings were displayed prominently in the main hallways and principals' offices at her schools.
Ramona studied art and music at Scottsdale Community College under David Skylar and Professor Dyer in the 1970s.
CAREER HIGHLIGHTS
As a member of the Black History Heritage Committee at Arizona Public Service Company (APS), she secured space for a museum on the lobby level of APS's high-rise headquarters in downtown Phoenix, Arizona. (The museum is still thriving to this day.)
Her works have shown at The West Valley Art Museum, Sun City, Arizona; The APS Museum, Phoenix, Arizona; Shemer Art Museum, Scottsdale, Arizona; City of Phoenix Art Museum, Phoenix, Arizona; and many other fine art venues. Ramona's art is presently on display at The Carver Museum and Cultural Center in Phoenix, Arizona.
RAMONA TODAY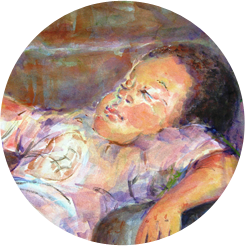 Ramona's medium of choice is watercolor, though she enjoys pastels, acrylics, pen and ink, graphite, colored pencil and anything else with color. Ramona's is a member of the Arizona Watercolor Association.
Ramona lives with Joseph, her husband of 29 years (as of 2012), and she paints from her studio "Fine Art Done Wright" in Phoenix Arizona. Ramona and Joseph have 12 children between them, as well as many grandchildren and great grandchildren.
Ramona is thankful for the talent she has received from her God Jehovah. She is grateful for her mother who encouraged her from infancy, and is grateful for her siblings, children and grandchildren who are a source of inspiration for much of her art.
For gallery and private commission inquiries, send us an email at info@ramonawrightart.com.
---
Ramona's work has been exhibited at the following arts institutions:
---
Ramona is a member of the following arts organizations: